As a kid, I grew up about 20 minutes away from the original Disneyland. I know that park like the back of my hand. In my 20s I had an annual pass and would stop by on weekends, or even after work to meet friends, have dinner, and people-watch without going on any rides. These days, I'm a bit more than 20 minutes away, but try to make it down every couple of years. As much of a DisneyLAND fan I am, I've never been to another Disney property — not even Disney World in Florida. Earlier this year, Christine and I were in Paris and had the opportunity to stay in Paris Disneyland. This blog post will be about my experience, observations, tips, and tricks. Those observations will be from my point of view — using Disneyland as a reference for comparison. Part of my knowledge comes from an ebook I picked up on a whim before boarding the plane: "The Independent Guide to Disneyland Paris 2018." This was extremely helpful in summarizing and mapping out the park and rides.
First off, I should say that my experience may be different than yours. We took the trip as a luxury vacation — 6 nights, 7 days. We used the morning "Magic Hours" plus conventional fastpass to get onto rides with long daytime lines. My understanding is that most folks try for shorter stays with extremely packed (and, it sounds to me, stressful) itineraries. We were blessed with the privilege and ability to take a longer stay, so took it in an effort to minimize stress. If your stay is shorter, they have (rather expensive) paid FastPass tiers that let you line-hop without having picked up a FastPass ticket/receipt ahead of time. This paid system is a little like Universal Studios. Anaheim Disney does not have paid FastPass tickets, only the on-demand ones you pick up at the front of the attraction. If you are a packed-itinerary kind of person, the ebook I reference above has several "optimal path" guides for maximizing your rides with strategic picks throughout the day, free FastPass, and frequently hurrying from one end of the park to the other.
The overall layout of the parks, hotels, and shopping district are, if not exactly geographically similar, are spiritually similar to Disneyland. There is a central plaza with Paris Disneyland on one side and Walt Disney Studios on the other. Disneyland Hotel, the most expensive of the Disney-owned, is analogous to the Grand Californian. It is a beautiful mansion that sits above the main gates. Some floors have a private elevator that descends down to the gate. Off to one side is Disney Village, their version of Downtown Disney. Beyond that (and outside the security bag-check) are the other Disney hotels. We stayed in the big Disneyland Hotel, but were we to go back again, would probably stay in one of the farther ones. We visited the bar at their Sequoia Lodge one night. The 10-15 minute walk wan't bad, the bag check was annoying but quick, the style of the hotel was a copy of the Grand Californian, and I vaguely remember the rooms being half the rate of the main hotel's.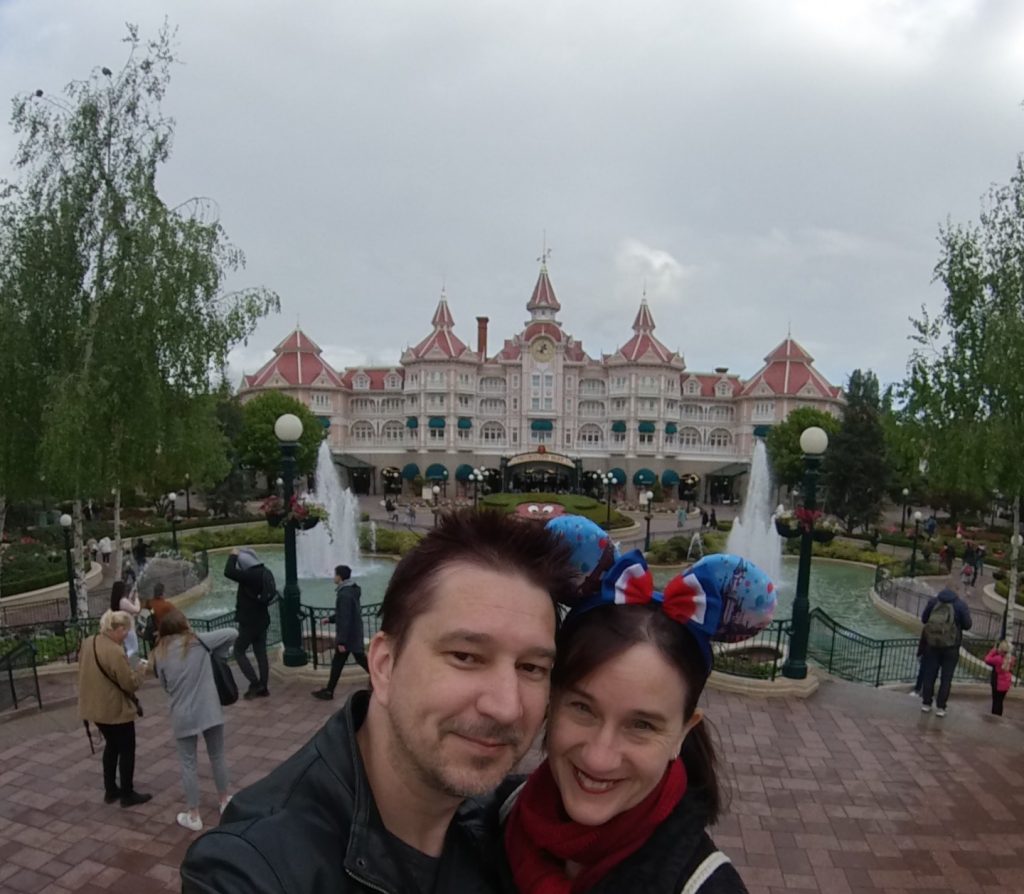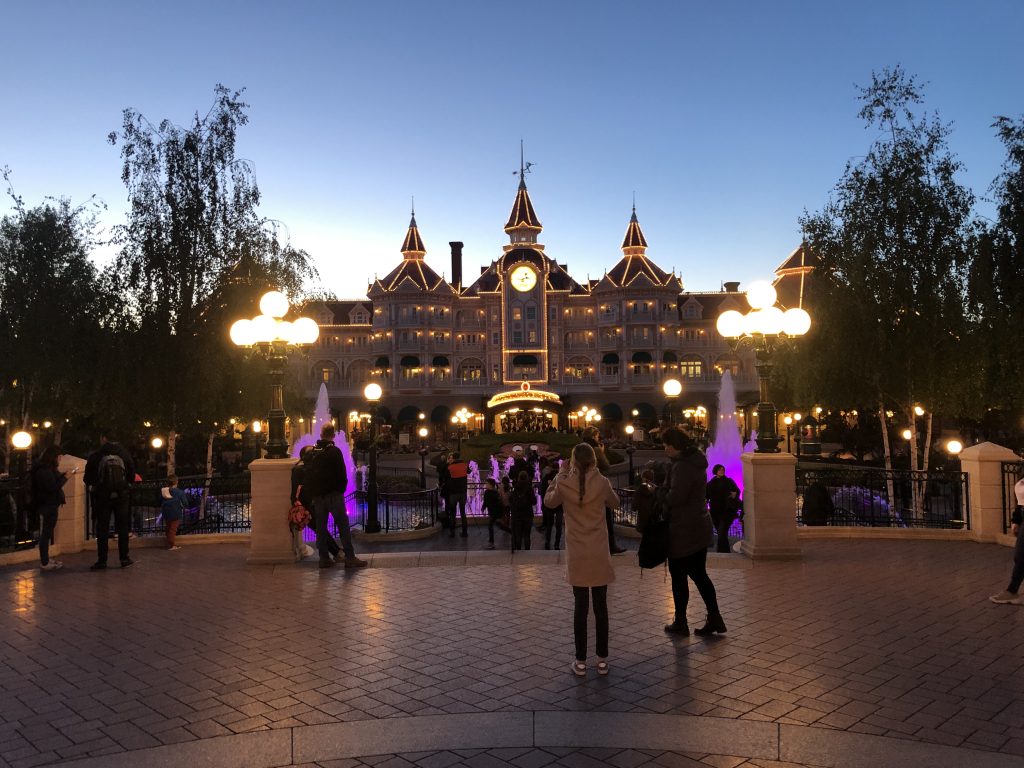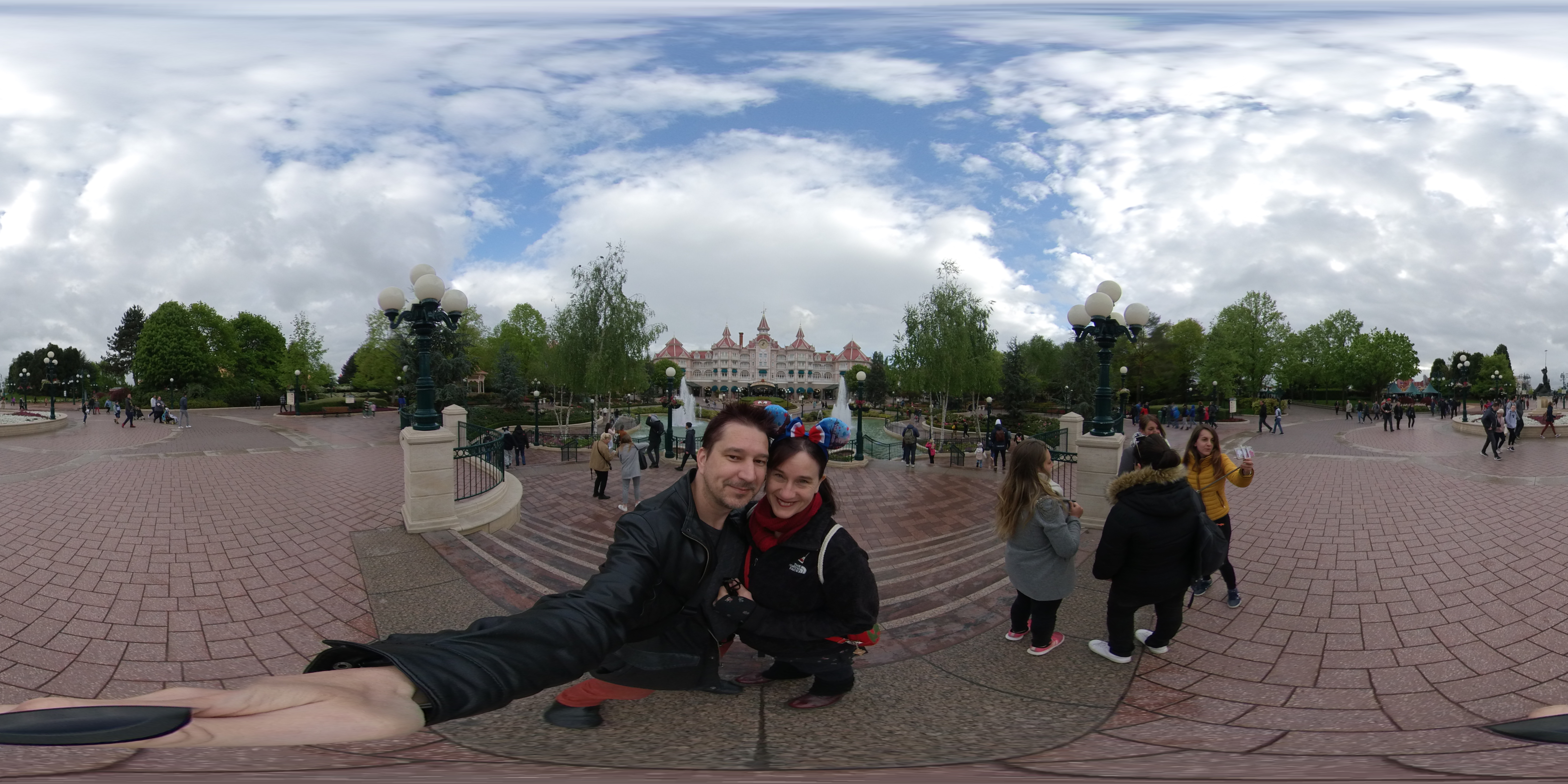 As to individual attractions:
The Castle is a sight to see. It's big, bold, and the best fantasy castle on earth. You need to understand that they built this castle for European folks who live in countries that are positively littered in castles. I'ts much larger than the one in Anaheim, and has a basement as well! Be sure to check out Maleficent, in animatronic dragon form, lurking in the dungeons.
Discoveryland is the Paris equivalent of Anaheim's Jules Verne phase. They're really trying to stick to the theme, whether it works or not. Something unique to Paris Disney is that a lot of the fast food spots — that is, not fine dining nor carts — have a collection of vendors under the roof of a large shared indoor promenade. I can only assume this is because the rest of the world isn't blessed with California weather. The one in Discoveryland went all-in on the steampunk theme.
Discoveryland

Detail of airship above food court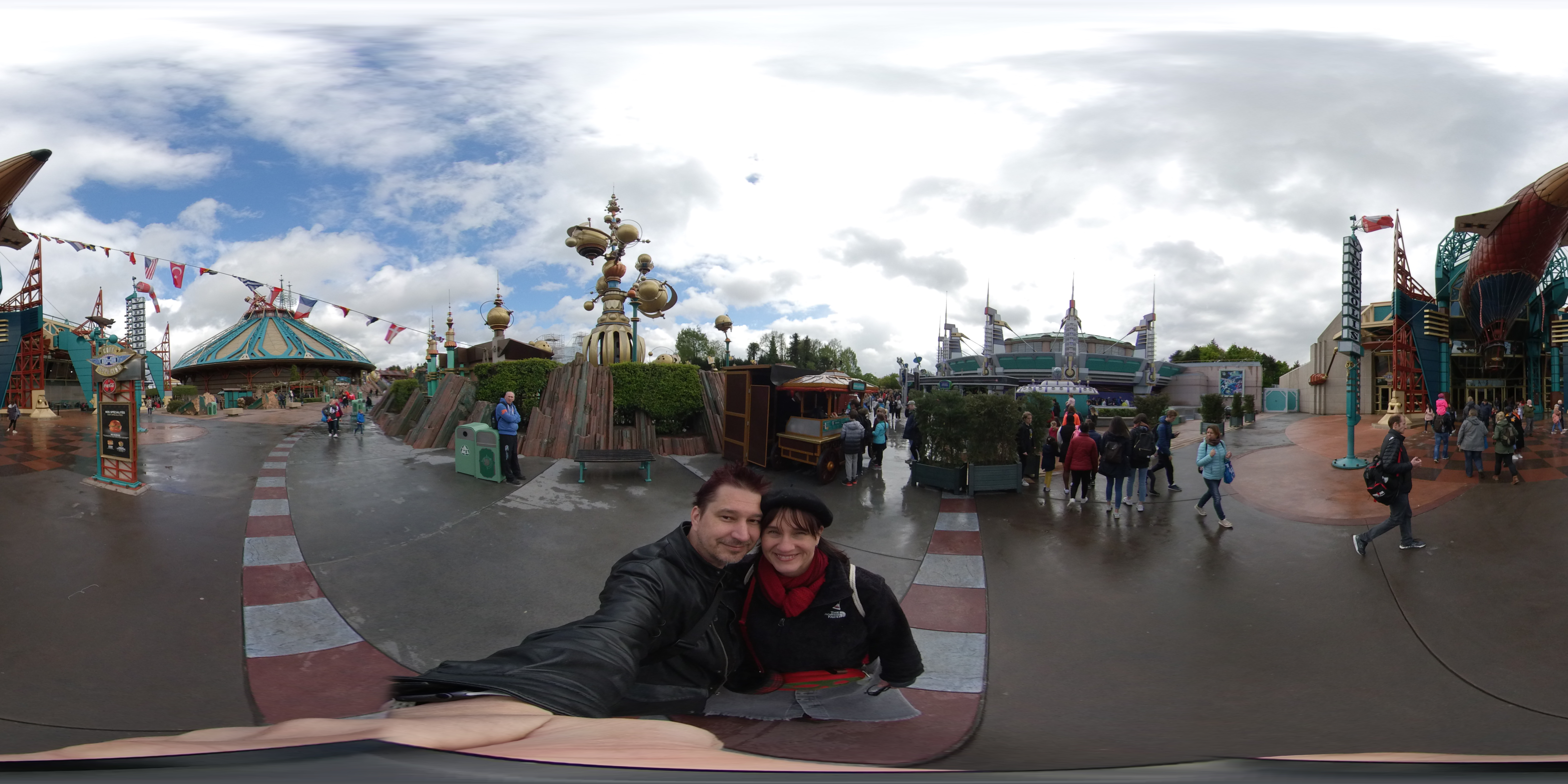 Because of the commitment to theming, Space Mountain was really weird. You start in a queue that looks like it was added after the ride gained popularity. It's largely metal, utilitarian, and is decorated with schematics of Star Wars space ships. Once past this, you're in… a Victorian study? There's wood and wainscoting and Baltimore Gun Club architectural drawings of a From the Earth to the Moon cannon — the kind where the "bullet" is a space capsule that ends up poking the man in the moon in the eye. The loading area feels very Eiffel Tower, with its reinforced metalwork. At the start of the ride, you're stationary on an incline, waiting… and then an explosion and you launch! Sort of like, oh, I don't know, you were being shot out of a canon. So the overall theming felt like a Star Wars veneer hastily thrown on top, but the ride experience itself was amazing! It's significantly longer than Space Mountain in Anaheim. It also has loops and barrel rolls.
The Nautilus is an under-appreciated gem. I'd be hard-pressed to call it a ride, but more of a walkthrough. You descend underground, then walk from room to room within the submarine. There's no line, and it will probably take you 5-10 minutes to get through, depending on how long you stop to take in the elaborate set dressings.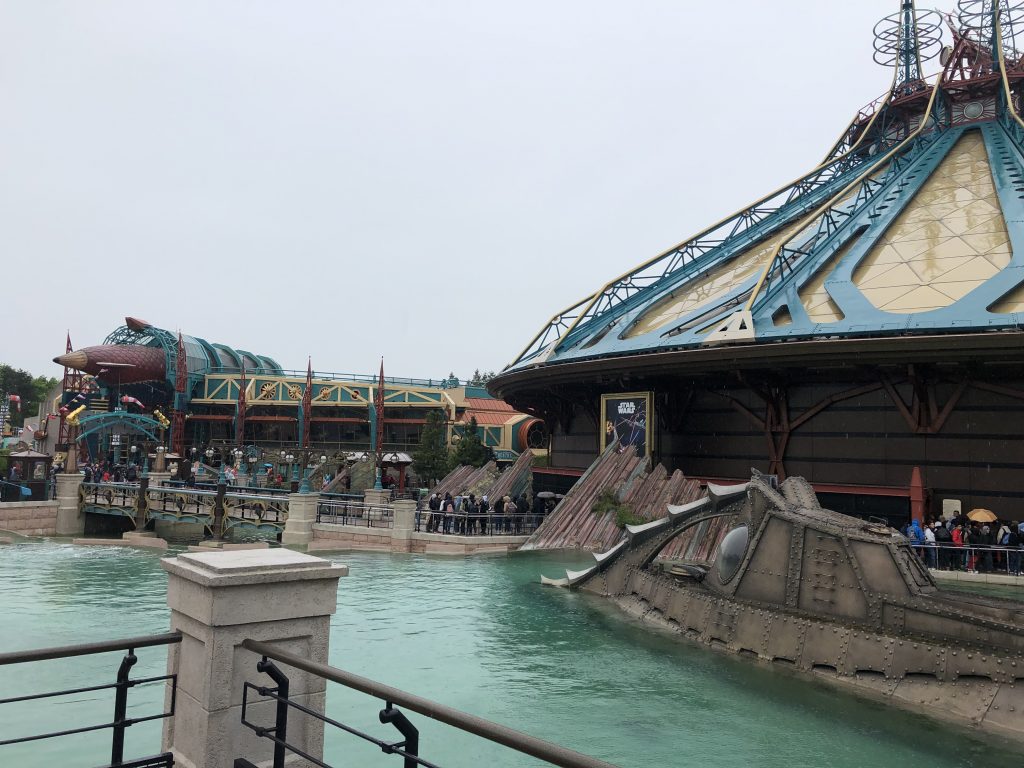 Star Tours was almost the same. The queue was a bit different, but the fundamentals were the same. It lived in a pocket in the back of Discoveryland, around the corner, out of view from the rest of the Jules Verne stylings. A Darth Vader meet-and-greet also lives in the same spot — with a large X-Wing atop the building.
On the other side of the park was Indiana Jones. This is 100% different from the one in Anaheim. The Disneyland one is a jeep simulator disguised as a roller coaster. The one in Paris is a literal roller coaster around a temple. It was a good ride, but aside from it wrapping architecture, didn't feel very Disney.
Thunder Mountain Railroad was fantastic and completely broke my expectations. Like in Anaheim, it's near the riverboat. Unlike Anaheim, that's just the entrance. The full ride lives in what would be Tom Sawyer's Island. You get on the train, and once the ride starts, it shoots underground and under the river, emerging on the island mountain. It goes on for significantly longer, finally descending under the river and back to the load/unload queue on the "mainland."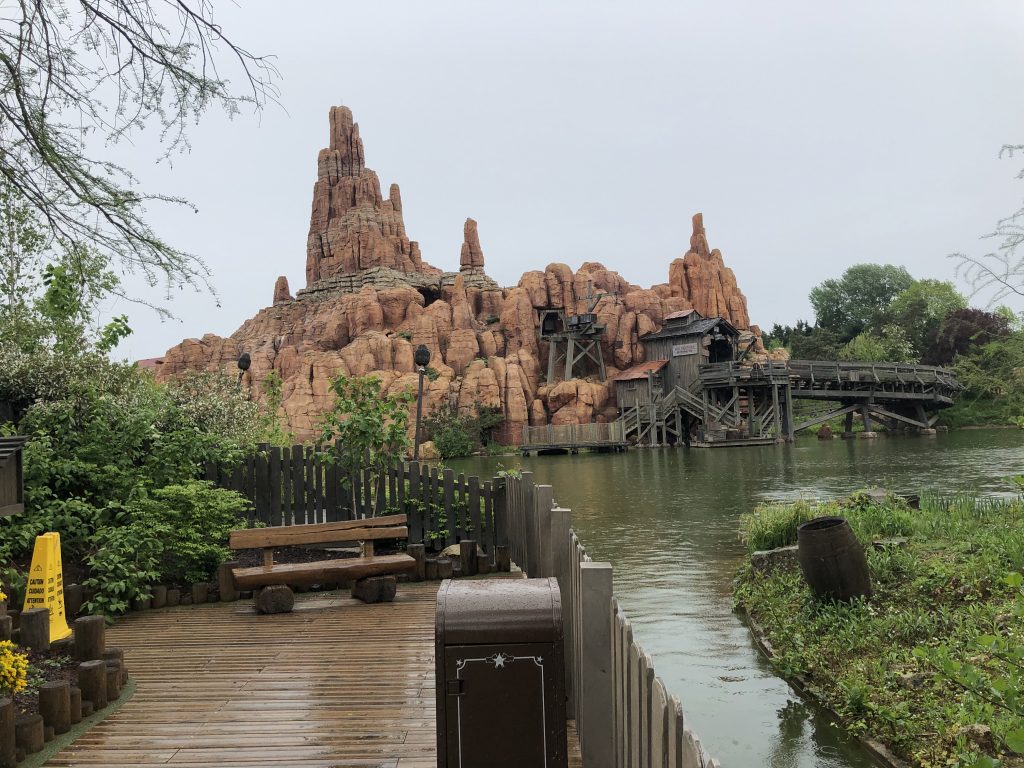 I'd like to say Phantom Manor was great. When we booked our tickets, it wasn't on the list of planned ride closures. (It was on the previous month.) It's apparently been under refurbishment for a year and a half, and was scheduled to open a few weeks earlier. We stopped by ever day, only to find the entrance chained up, the exit boarded up, wonderfully thematic signs describing the closure, and an occasional hard-hat worker entering or exiting. The big kick in the pants was that our last full day there was a soft-opening of the ride for employees and their families. Our last partial day was for the top-tier level of annual passholder. It was a huge disappointment. That was the ride that both Christine and I were most excited for. Maybe next time.
Pirates of the Caribbean was similar, but different. While the one in California starts out in a sleepy bayou, with fireflies and a banjo player, Paris is more of a seaport town. The ride itself is similar. I feel the Paris version is perhaps a little longer. A lot of the animatronics alternated between English and French, which was fine. I didn't always get the full English recording of a character, but the plot is simple enough that it doesn't matter.
Just outside of Pirates were some Pirate Caves. This is an area to explore, similar to Tom Sawyer's Island and the cave found there — but much more elaborate, with many branching paths and multiple levels. We thought we explored it fully, but returned on another day and found a whole other area we'd missed. Even now, I am not entirely convinced that I saw the whole thing. It was a fun adventure that took me back to exploring caves and forests as a kid. One of the highlights was that you could climb up and look out of the skull-waterfall's eye sockets.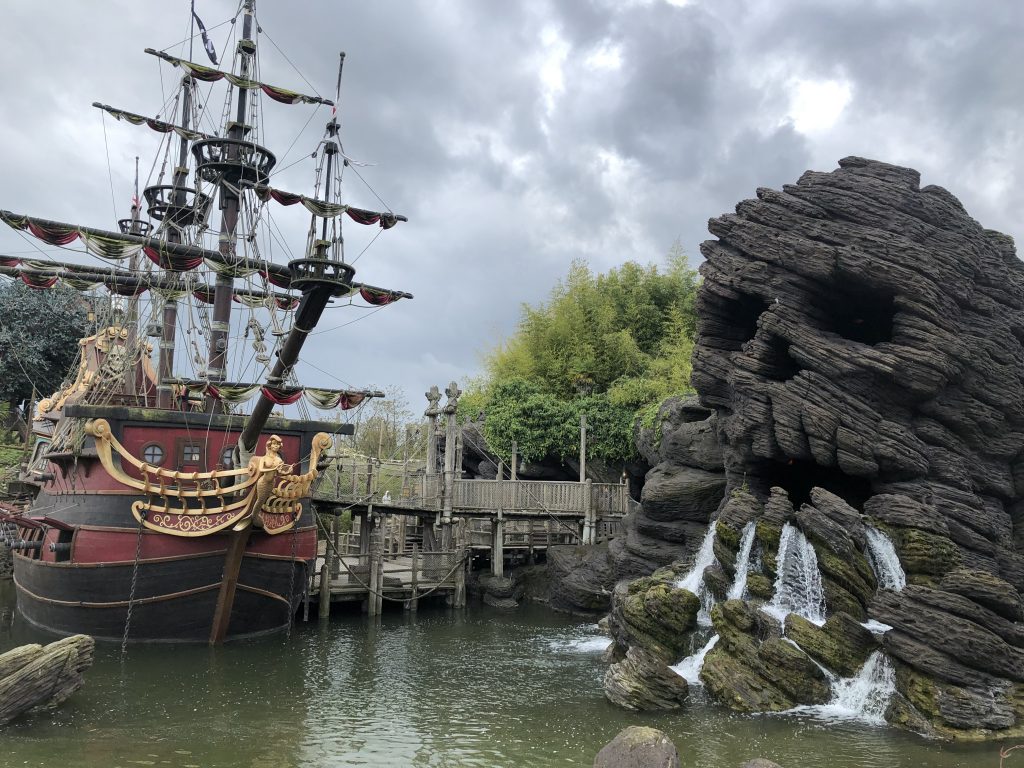 On the California Adventure side, oops — Disney Studios side — The Tower of Terror, like the old one in California was immaculately themed. That's something I seriously miss. The new Guardians of the Galaxy skin on the old Tower ride is fun, but I feel loss over the reskin. But for some reason, the ride felt less thrilling than the Anaheim one was. I'm not clear if this is real or perceived.
The Backlot Tour trams were fairly yawn-worthy. If you've been on the equivalent trams at Universal Studios, these don't hold a candle to them.
The Stunt Car Show was absolutely worth seeing. It only happens twice a day, so plan accordingly, and be sure to show up early to get good seats. I vaguely remember someone saying that was the last month (or season?) of the show, so by the time you read this, it may not even exist.
The Ratatouille Ride was… ambitious. The ride vehicles use the same technology as Luigi's Rollicking Roadsters — the California Adventure ride where the cars have no controls nor tracks, but perform elaborate dances around each other in a large open area. The trackless tech was amazing! But the ride itself was movement from IMAX screen to IMAX screen. You had the point of view of a mouse underfoot in the kitchen, with a few minor gimmicks to make it feel more real (wind, water spray, smells piped in). It feels like something that should be amazing, but turned out to feel a little lackluster — especially given the wait times.
The spinning turtle shells in Crash's Coaster were absolutely like no other coaster I've been on. It was new, novel, fantastic, and fun. Each rollercoaster car seats four people — two in front, two in back, seated back-to-back. The people in the rear ride backward at the start and end of the ride. But in the middle, it's free-spinning. As the coaster goes up and down and around, you're facing whichever direction you happen to be facing at the time. It's wildly disorienting, but in the best and most fun possible way. Because of the small cars and long duration, the line for this fills up quickly. Even the single-rider line has a long wait. Be sure to grab a FastPass!
In the Marvel/Avengers area of the park, there is a plaza with outdoor shows occurring at either end. Both the Stark Expo and Guardians Dance-Off were entertaining, have zero wait to see, and are fun to catch. The Stark Expo had great effects, such as Thor activating his hammer perfectly timed to a flash of lightning on the screen behind him, looking like he's calling the lightning. Helpfully, both were in English.
The indoor shows, Mickey and the Magician and Avengers, were good — but with a huge wait and no FastPass might not have been worth the wait. The Magician had some delightful stage magic. It brought in cameos of a lot of characters of other Disney films, as Mickey's magic fizzled, sparked, and generally didn't work right, like some sort of apprentice sorcerer. The minimalist but powerful costuming for the Lion King brought in all kinds of feels, and I haven't even seen the movie or stage show. Helpfully, the spoken lines alternated between English and French, and was masterfully written such that if you only knew one of the languages, as if you were listening to half of a telephone conversation, you'd still be able to pick up the full story. The Avengers show had some great stage effects (with video projection mapping rivaling Harry Potter and the Cursed Child) and wirework. Lite on plot, but you're there for the effects.
As far as food goes, the secret gem was the vegan chili food cart, in the old-time-Hollywood area, just under the Tower of Terror. Even as a non-vegetarian/non-vegan, it tasted great and was just the right amount of non-sugary food to get me to the next meal.
The two fancy restaurants required some pretty intense reservations. Captain Jack's, the equivalent of the Blue Bayou, lives inside the Pirates of the Caribbean ride. Bistro Chez Rémy lives adjacent to Ratatouille. Both are immaculately themed, which is half to reason to go there. The other half, of course, is the 5-star food found nowhere else in the park. If you've been to the Blue Bayou, then you know Captain Jacks. It's a similar setup. One little bit of mismatched expectation was around their tiki drinks, served in souvenir mugs. I'm used to Trader Sam's, which has its own signature mugs to go with its cocktails. The mugs at Captain Jack's had no logos or branding or anything Disney or Pirate about them. I might as well have ordered one from Amazon. Save your cash and don't get a mug. Now the Ratatouille restaurant shrinks you to the size of a rat when you enter. The chairs are champagne cork toppers. The tabletops are tea tins. Every detail was themed.
Both restaurants serve 2-3 of levels of Prix Fixe menu, at different price points. Each course lets you choose between a few different options, mutually exclusive from the other Prix Fixe menus. We found that if you get the most expensive tier, they let you substitute an item from one of the other menus — for instance, if you wanted a particular dessert from another tier that wasn't on your set of Prix Fixe options. But they will only do that for the top-tier menu. You cannot substitute "across" or "up" to another Prix Fixe menu's options, for any price at all.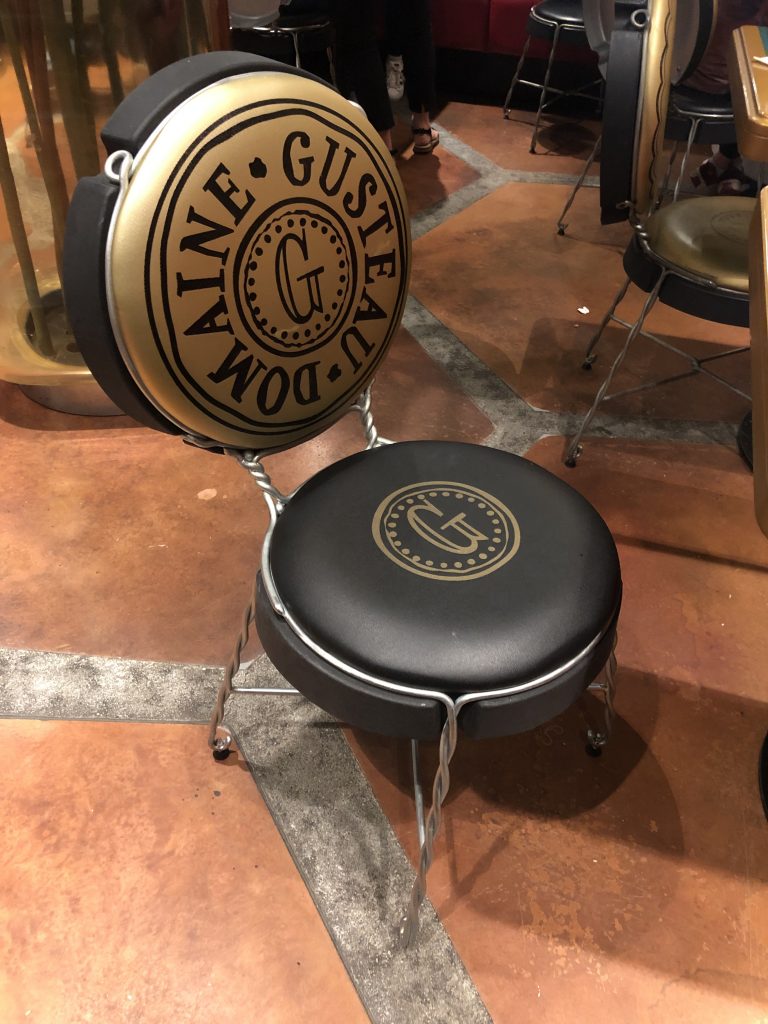 Within the hotel, we didn't go to California Grill because the one vegetarian option (celeriac) was outrageously overpriced (€42). Inventions was an all-you-can-eat buffet, with Disney characters wandering around. The offerings were outstanding and top-notch, including high-end seafood/shellfish, meats, cheeses, pastas. I got to try whelk (sea snail) for the first (and possibly last) time. But like many such buffets, you end up either feeling sick from overeating because you wanted to get your money's worth, or you feel like you paid too much. We went there once and decided it wasn't worth returning. Our hotel bar was named Fantasia, and was where we retired virtually every night. They were one of the few places that could make a good American-style Martini, not to mention all of the other outstanding drinks. It also turns out that Scotch is much less expensive if it's not imported across the Atlantic into the US. Most evenings they had a piano player, covering everything from jazzy songs to Disney classics, and even once I heard the Super Mario underground theme (I think a request from a kid in the lobby). The bar at the Sequoia also had a great ambiance, albeit no piano player.
On other attractions, the fireworks show isn't as grand as the Anaheim one. In fact, being a adults with no kids, we ended up skipping the fireworks (after the first night) and parades, opting to go on rides instead — while a large percentage of park-goers lined up on Main Street to watch.
And like California, why is there always a giant line for Peter Pan??? It's not that different from Snow White or Pinocchio. If you feel you have to ride it, go the FastPass route, but you'll still need to get there early to get a decent time.
So those are the highlights of our trip to Paris Disney. There's so much more I could write and so many more picture to post, but I had to draw the line somewhere. Hopefully this helps you plan your European holiday — or even if not, it brings you a little spark of joy and happiness.