Last month, Christine and I spent a couple of weeks in Paris. The first half of the trip was Paris-proper, while the second (which you'll see in the next blog post) was out in the suburbs of Paris Disneyland.
In Paris-proper, we did a lot of the "standard" tourist stuff. We visited (what we could see of the burnt husk of) Notre Dame, the Eiffel tower, Catacombs, Arc de Triomphe, and Moulin Rouge. Some were good, some were terrible. (Spoiler alert: Moulin Rouge was terrible.)
Notre Dame

Eiffel Tower

Catacombs

Moulin Rouge. At least the photo is nice.
Recently Christine has gotten hooked on "Airbnb Experiences." Those are activity listings on the Airbnb site — touristy things, but not usually the "big" things. They're smaller activities with a more local flair.
For example, we took a class at the kitchen of Les Secrets Gourmands De Noémie and learned how to make my favorite tiny-hamburger cookies, macarons. (Don't confuse them with the terrible coconut travesty of macaroons.) This was fantastic! I've often thought of making macarons at home, but have been scared away. Various aspects of the technique have scared me off. But getting hands-on instruction from an expert, IN PARIS no less, helped me realize that it's a bit of work, but ultimately no big deal. We made a couple dozen macarons and ate them throughout the rest of the trip. Delicious! I will definitely be making more soon!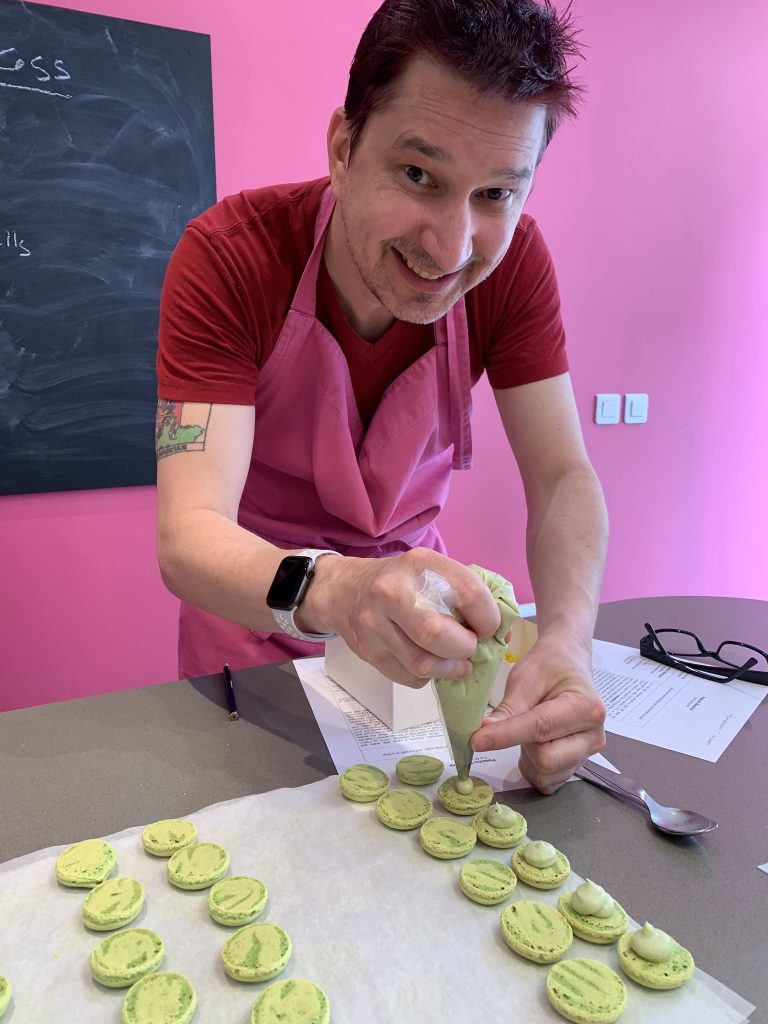 Because Christine and I are such big fans of cheese, she signed us up for a cheese tasting class with the certified cheese monger Le Cheese Geek, a.k.a. Fabrice. Due to Yellow Vest riots and police activity, many of the metro stops were closed. Closed streets with police vans and bulldozers zooming down them made it feel like an impending apocalypse. We were late to class because we had to route around the metro closures, but it was a wonderful experience despite our tardiness. Class was held at a fromagerie, before it opened for the day, in the cool cellar. Fabrice really knew his stuff, and even recommended a cheese shop here in Portland that he'd recently visited. We had little tasting books and went through a number of exercises. For instance, we started with a block of cheese that we had to describe to someone in the other room — who couldn't see it, but had to draw what we described. That led to a conversation on looks, terminology, and history. For example, some of the rind coloring was made with ash and used as a brandmark to distinguish different cheese-makers in the same region. We then proceeded to smells, tastes, and geography. Overall, we tasted about 10 different cheeses — with some variation, such as the same cheese at two different ages or the same cheese handmade versus mass-produced. Each was paired with a perfectly matching beverage and small snack, such as red/white wine, grape soda, fruit, and chocolate. I can't say I'm an expert at cheese now, but at least I have a little more knowledge and ability to say why I like a cheese, and not just "I like this one."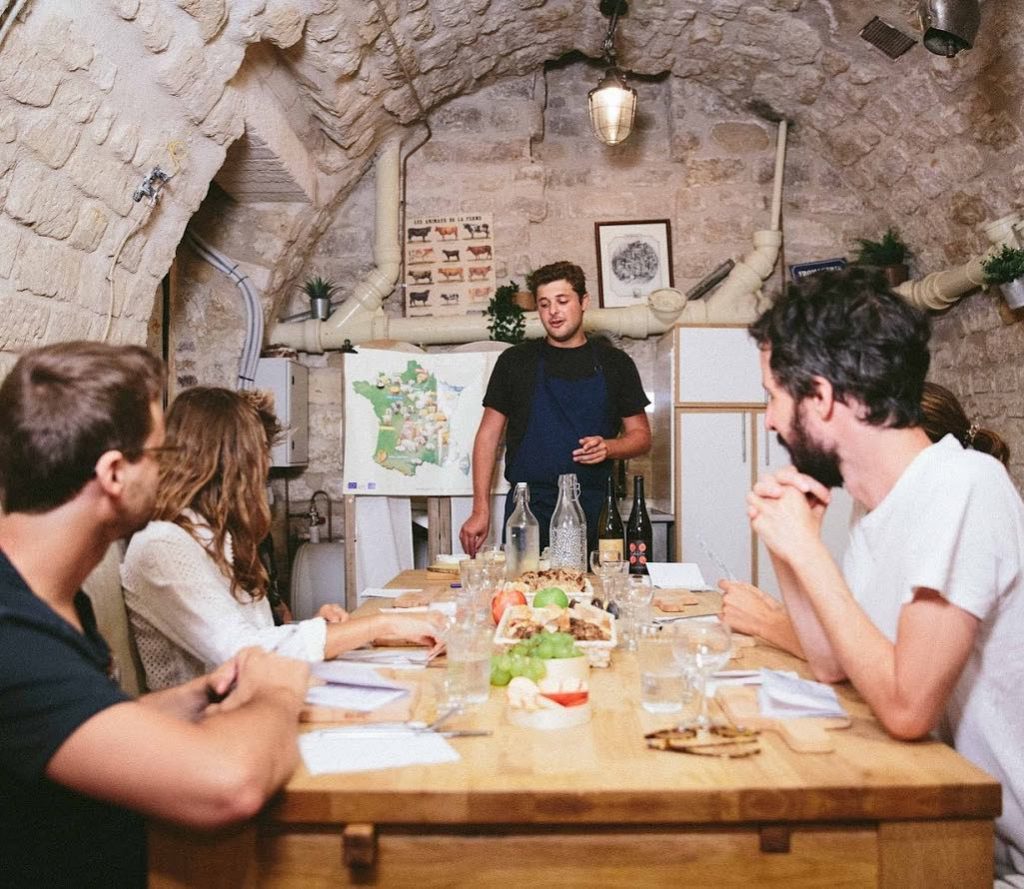 Another event that Christine signed us up for was a night out at a "secret jazz club." It turned out to be not-so-secret: it was the lounge and bar of a fancy hotel. There was quite a lot of history to the hotel, and we got a tour with the backstory. It was definitely not someplace we would have stumbled into ourselves, but still a great evening out. It was one of the few places in France that we were able to get an American dry vodka martini without having to explain how to make it. (In France, the Martini is a pre-mixed drink that comes in red and white variants.)
One afternoon, we were in the area and thought we'd check out the French fashion at Galleries Lafayette. This is sort of like a fancy department store in a historic building, but each designer has a little booth or area, like a fleamarket. Most everyone had their floral-print summer stuff out. Yawn. But we did see some great unique looks. Alexander McQueen had a few wonderful dresses with plenty of laced eyelets and straps holding things together. Miu Miu also had some good goth/punk looks. Le Tanneur had some magnificently understated leather reporter bags. Ultimately, we ended up with a few things from Diesel — I, a belt, and Christine, a long skirt and pants with an abundance of zippers. Unexpectedly, Galleries Lafayette had a suspended rainbow bounce house, but we didn't have the nerve to try or the patience to wait in line.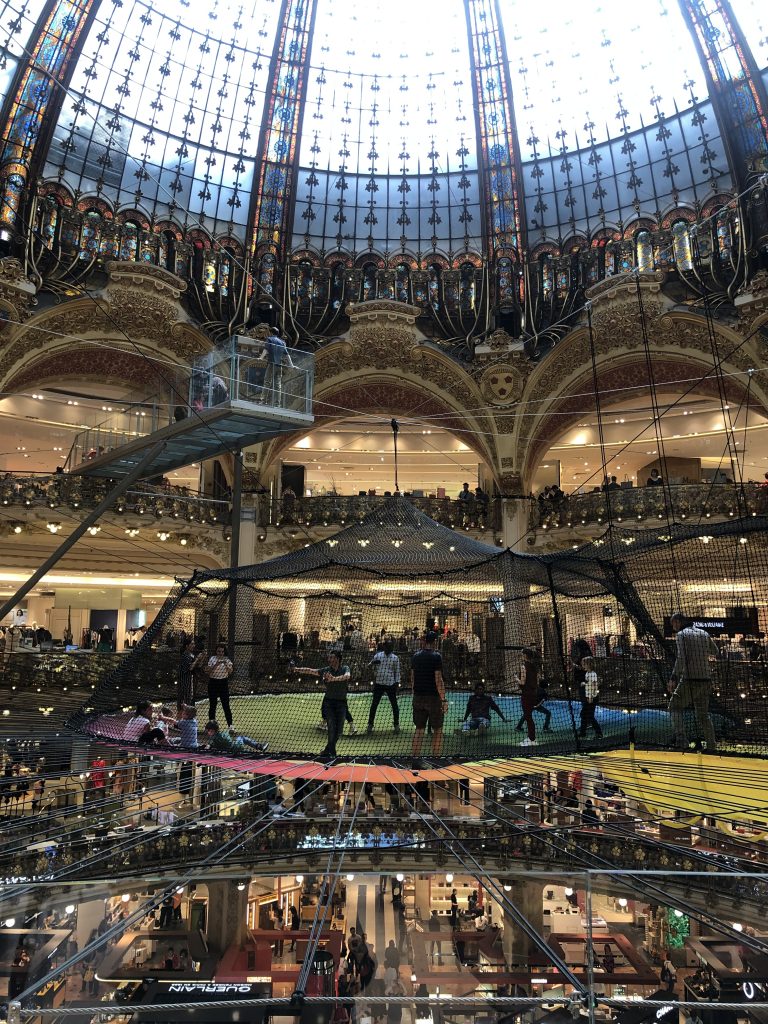 Now. The part where I throw shade. I had high hopes for the Moulin Rouge. We had expensive tickets that included dinner with the show. The early dinner seating was supposed to guarantee good seats. But we got screwed on multiple fronts. The vegetarian menu was the same price as the meat-eaters menu, but at a far lower quality bar with much less food. I ate the most expensive carrot I've ever tasted. It was kind of bland. Based on the quantity of couscous on the plate, I think I could have calculated how many euros each pearl cost. Because the menu was prix fixe, we were stuck with a tablespoon of lemon sherbet alongside finely minced fruit salad, as we looked over at the rest of the table dining on large portions of chocolate mousse and cake, who paid the same price we did.
We effectively had front-row seats at a long dining table. There were two different stage configurations. The pre-show setup was a good view for me, but Christine had her back to the stage. After the preshow, Christine left and went to the bathroom, at which point the stage expanded outward alongside, and flush with, the table. Because it boxed in her seat, she had to climb up on the stage to return to her seat. So technically, she was on stage at the Moulin Rouge. When the show started, we both had a shoulder to the stage and could crane our necks to see lots of legs and feet, but didn't have a great view of the overall dance numbers. It wasn't a great experience. If we'd had cheaper seats, we would have had a better view. So if you'd like to go to a show there, skip the vegetarian meal — in fact, skip the meal altogether. Have a nice dinner out somewhere, then go to the show.
Overall, despite the failure of the red windmill, it was a great first part of the trip. The second part — Disney — was spectacular. Read about that in the next blog post ⇒